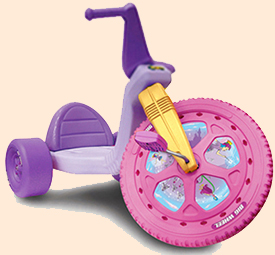 Select Pre-Assembled/ Demo/Color
The Original Princess Big Wheel
16" Trike.

Color: Pink & Purple.
Colors may vary slightly.
Let us know if you prefer the Pink Fork instead.
$ 127.77 to $227.77
Model No. 96106.
In Stock!
Will be shipped in plain brown box.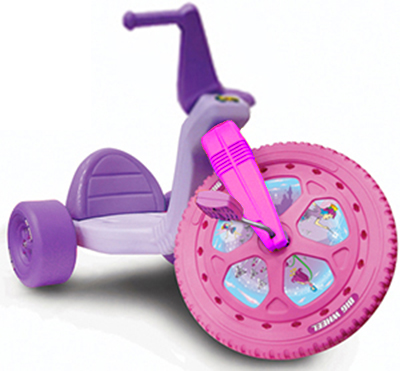 Millions of kids from the 1960's to 2000 enjoyed their Big Wheel®.
When it was introduced to the world in 1969, the Big Wheel® Tricycle immediately became a national success!
The Original Big Wheel® provided fun play for millions of children and enhanced the early development of their motor skills.  Because of its huge popularity, many of today's parents have special childhood memories that include endless hours of joy on their Big Wheel®.
In Stock!
Please allow 2 to 8 weeks for delivery.
Expedited Shipping is available, see Shipping Table.
The 95% Assembled = We assemble the trike completely, attach the decals, make sure everything is OK, Then take the handle bar and 1 rear wheel off. Ships in a plain brown box. You just need to drive 2 attached screws into the handle bar and attach rear wheel with 1 cap nut. It would take only 1 minute to complete, comparing to up to 1 hour for an un-assembled one.
We also have a small number of Demo/ Slightly used trikes.
You can save a lot of $$!
The Demo trikes are in perfect condition, only the wheels are sligtly scratched. They are shipped 95% Pre-Assembled.